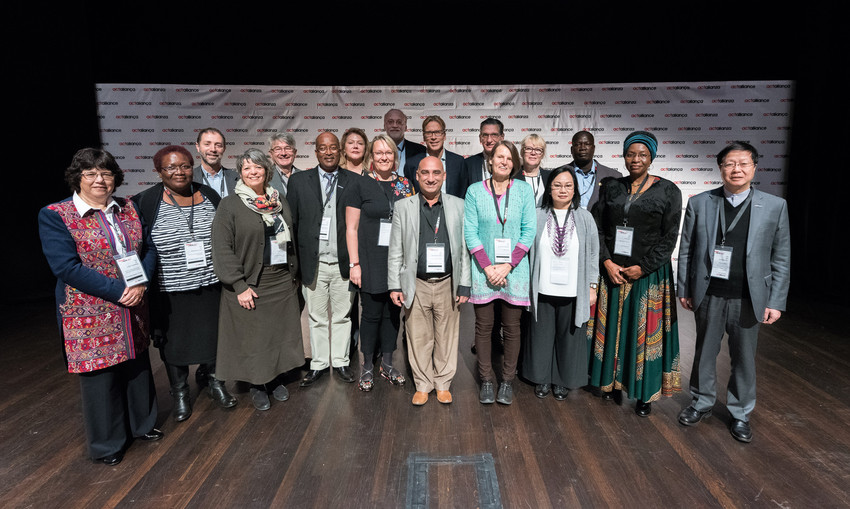 Governing Board
Moderator: Birgitte Qvist-Sorensen, DanChurchAid, West Europe
Vice Moderator: Tegwende Léonard Kinda, Dignus, Burkina Faso, Africa
Treasurer: Simangaliso Hove, Lutheran Development Services Zimbabwe, Africa
Rudelmar Bueno de Faria, ACT Alliance General Secretary, Ex Officio
Isabel Phiri – World Council of Churches, Permanent Seat
Maria Immonen, The Lutheran World Federation (LWF), Global – Permanent Seat
Minnieanne Mata Calub, National Council of Churches Philippines, Asia
Karen Janjua, Community World Service Asia, Asia
Qiu Zhonghui, Amity Foundation, Asia
Tegwende Léonard Kinda, Dignus, Burkina Faso, Africa
Girma Borishe, Ethiopian Evangelical Church Makane Yesus – Development and Social Services Commission (EECMY-DASSC), Africa
Simangaliso Hove, Lutheran Development Services Zimbabwe, Africa
Dragan M. Makojevic, Philanthropy The Charitable of the Serbian Orthodox Church, East Europe
Erik Lysén, Church of Sweden, West Europe
Martin Kessler, Diakonie Katastrophenhilfe, West Europe
Birgitte Qvist-Sorensen, DanChurchAid, West Europe
Joel Ortega Dopico, Cuban Council of Churches, Latin America and the Caribbean
Marta Judith Castañeda Amaya, Centro Evangélico de Estudios Pastorales en Centro América (CEDEPCA), Latin America and the Caribbean
Nicolás Rosenthal, Fundación Protestante Hora de Obrar, Latin America and the Caribbean
Ramzi Ibrahim Issa Zananiri, Department of Service to Palestinian Refugee: DSPR, Middle East
Rev. Dr Bob Mitchell, Anglican Overseas Aid, Pacific
Rev. Dr Laurie Ann Kraus, Presbyterian Disaster Assistance, Presbyterian Church, USA, North America
Ida Kaastra-Mutoigo, World Renew, North America.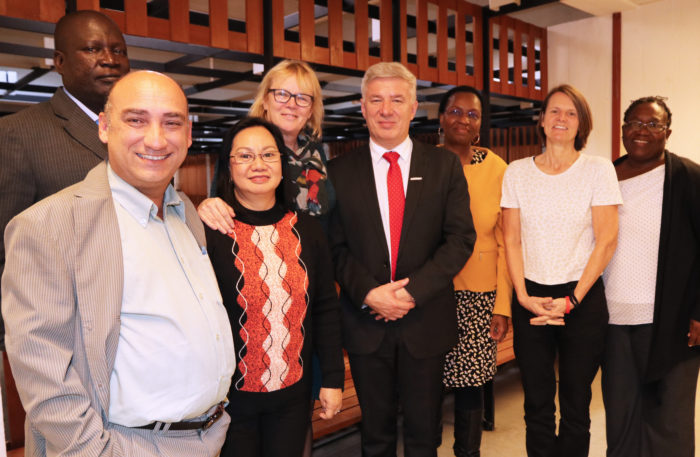 Executive Board
Rudelmar Bueno de Faria, ACT Alliance General Secretary, Ex OfficioMinnie anne Mata Calub – National Council of Churches, Philippines, Asia
Simangaliso Hove – Lutheran Development Services, Zimbabwe, Africa
Ida Kaastra-Mutoigo – World Renew, USA
Rev Tegwende Léonard Kinda – Dignus, Burkina Faso, Africa
Rev Joel Ortega Dopico, Cuban Council of Churches, Cuba, Latin America and the Caribbean
Birgitte Qvist-Sørensen, DanChurchAid, Denmark, Europe
Isabel, Apowo Phiri, World Council of Churches, Global
Membership and Nominations Committee
Caterina Bain, Centro Regional Ecuménico de Asesoría y Servicio (CREAS), Latin America and the Caribbean
Jouni Hemberg, Finn Church Aid (FCA), Europe
Melton Luhanga, Churches Action in Relief and Development (CARD), Africa
Arshinta Soemarsono, YAKKUM/YEU, Asia
Elsa Tesfay, The Primate's World Relief and Development Fund (PWRDF), North America